Cats have inspired some truly great works of art. From ancient Egypt to internet cat memes, our feline friends have been depicted in the arts for pretty much as long as humans have been creating images. But beginning in the late 19th century, an English artist named Louis Wain helped usher in a new era in kitty artwork.
Wain's complicated life will be depicted in a recent movie from Amazon Studios. The Electrical Life of Louis Wain, starring Benedict Cumberbatch in the title role, covers Wain's rise to becoming one of the Victorian era's most popular artists, and how his struggles with mental health and poverty impacted his work.
With that in mind, we thought it'd be the perfect time to explore this cat-friendly artist's life and career, as well as how his drawings of cats helped reshape the public's imagination towards our feline companions.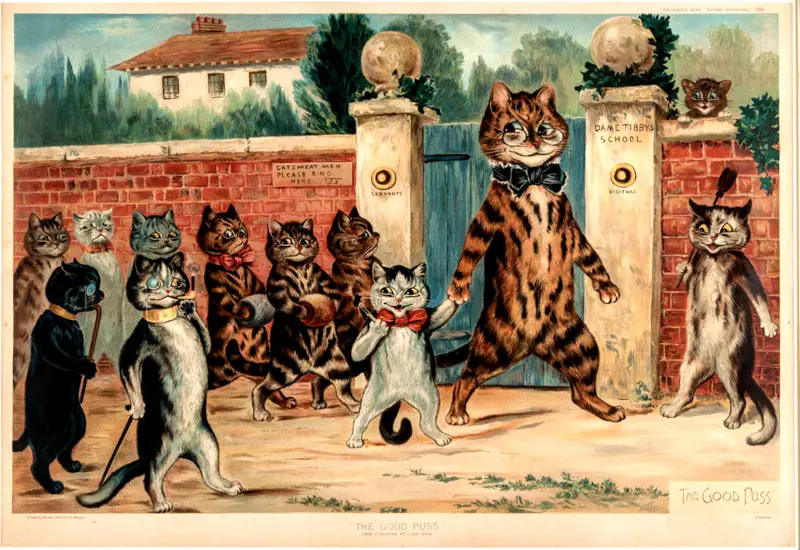 Louis Wain was born in 1860, the oldest of six children. Following a childhood marred by financial and emotional hardships, he studied at the West London School of Art. He soon took a teaching position there to support himself, his mother, and his sisters after his father's death. Wain's interest in the visual arts was a vital part of his life from an early age, and he would ultimately leave his teaching stint to pursue a career as a freelance artist.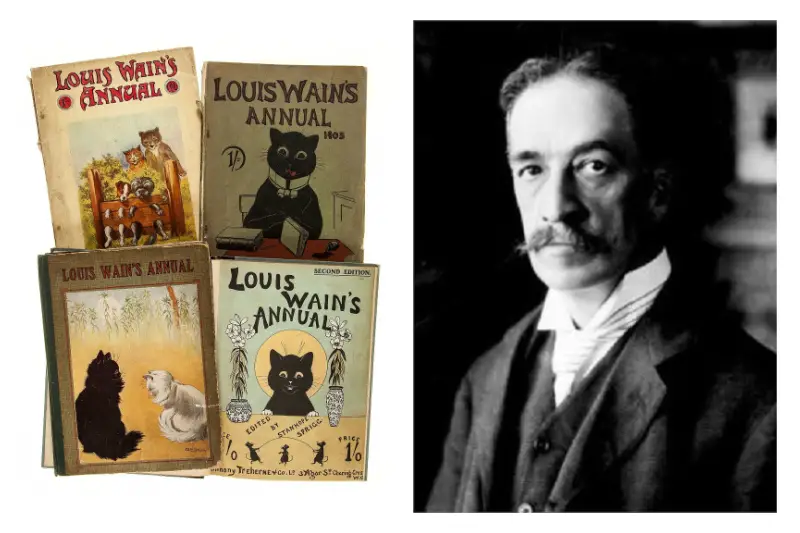 Wain's time as an illustrator for several English newspapers and magazines helped hone his drawing skills. His early commercial work throughout the 1880s featured intricate depictions of English country estates and landscapes, allowing him to sharpen his keen eye for detail. Additionally, he was often commissioned to draw livestock at farm fairs and agricultural shows.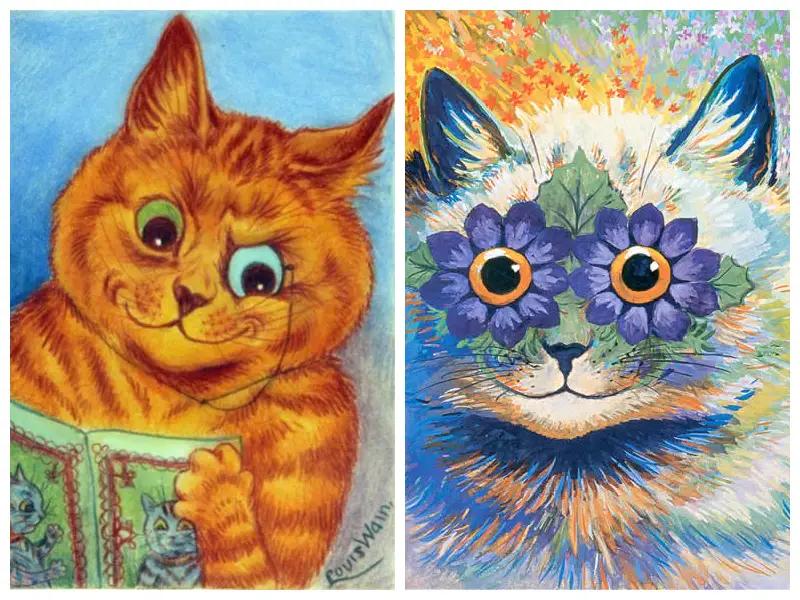 Wain married Emily Richardson at age 23. After his wife fell ill, Wain rescued a stray black and white tabby named Peter. Stricken with breast cancer, Emily found comfort and joy in Peter's presence, and her husband would begin sketching pictures of their memories together. Emily passed away from her illness after three years of declining health, and Wain sought to continue his cat drawings to pay tribute to his beloved late wife.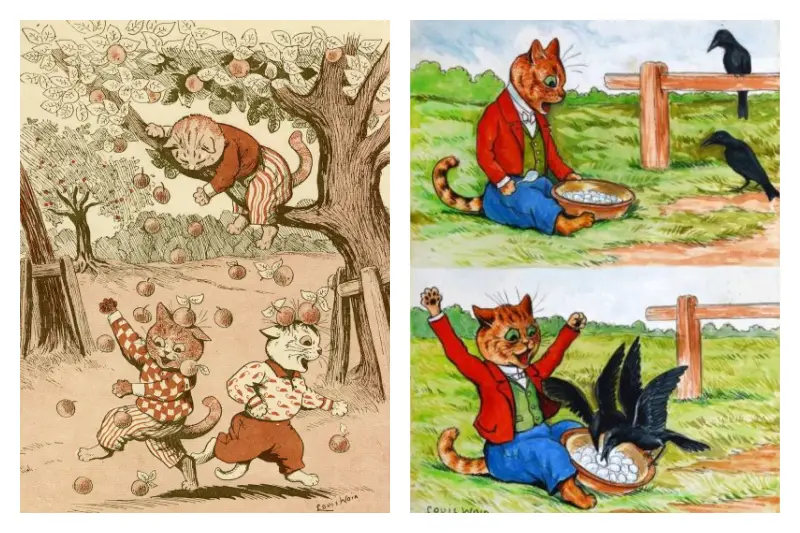 In Victorian England, cats didn't receive the same love and devotion they do today. Cats were primarily utility animals, useful for catching mice and not much else. They were rarely kept as pets, as dogs were much more popular. Instead, stray cats roamed the bustling industrial streets of London and other modern cities and were seen mainly as a nuisance to business owners.
The work of Louis Wain helped dispel that notion. Beginning with a commissioned cat-themed Christmas spread for the Illustrated London News in 1886, Wain's cat drawings began to charm the nation. His whimsical pieces depicted anthropomorphized cats in a clever send-up of contemporary English society – playing games, having tea, smoking, and, perhaps most crucially, wearing adorable outfits.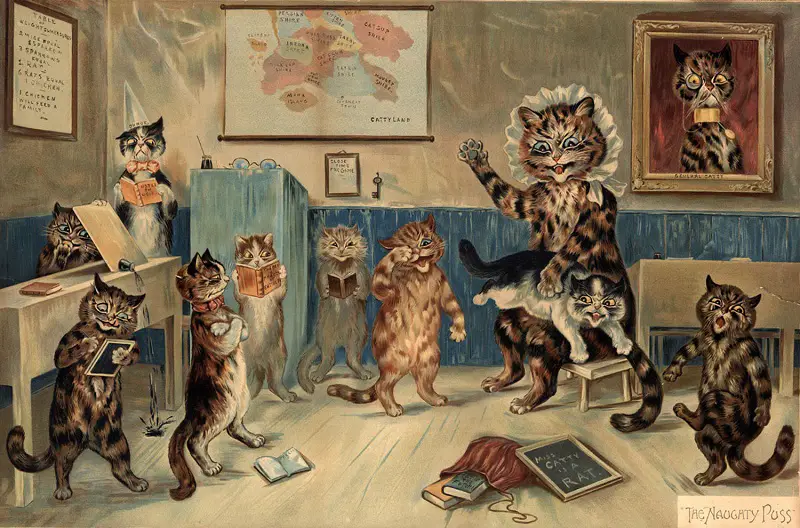 Soon, Wain's cat drawings were everywhere. Kittens playing cards, riding bicycles, or attending the opera would appear on greeting cards, postcards, collectible prints, and newspapers throughout the country. Wain worked fast, producing hundreds of drawings a year during his most prolific period. His unique drawing technique of working with a pen in each hand allowed him to churn out cats as fast as the public demanded.
Despite this surge in popularity, Wain continued to struggle financially throughout his life. He would sell his pictures outright for mass production and never copyrighted or otherwise protected his works. Poor finances and his relentless output may have contributed to his mental health issues as they progressed.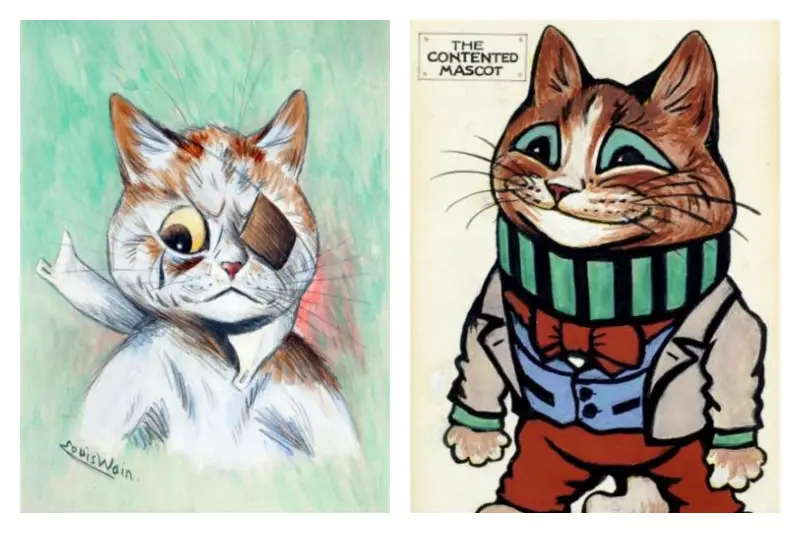 In 1924, Wain was diagnosed as schizophrenic, and he was committed to a mental hospital. While institutionalized, Wain continued to draw, which eventually attracted public attention and shined a light on his hardships. A public campaign spearheaded by his fans and admirers eventually reached then-Prime Minister of England, Ramsey Macdonald, who arranged to have him transferred to better facilities for ongoing care. Macdonald also issued Wain's surviving family with a regular pension to recognize his contribution to the arts.
In his later years, Wain's work grew more abstract and experimental, which some attributed to his declining mental state. His cat drawings began to feature colorful, eclectic flourishes that reflected a departure from his conventional comic style. After producing hundreds of artworks over nearly half a century, Louis Wain passed away in 1939 at age 78.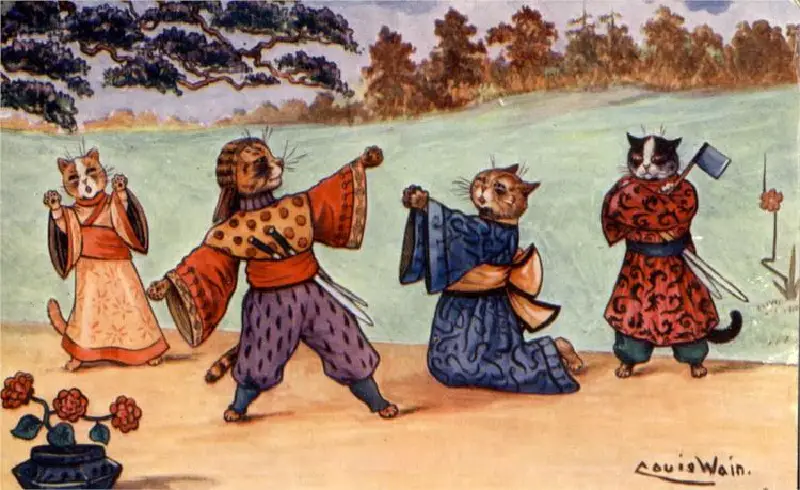 Today, museums and private collections worldwide continue to display Wain's voluminous body of work. His drawings all remain in the public domain, and you can still find them on postcards and prints to this day. Thanks to his efforts, cats have undergone a dramatic reevaluation in the public eye, and we still love to dress up our furry friends and imagine them living lives not so different from our own.
In the grand tradition of Louis Wain, cat portraits continue to be a popular way to immortalize our feline buddies. Hanging some cat artwork in your home is a great way to design a cat-friendly space that shows off your love for all things four-legged and feline. A Louis Wain print makes a perfect holiday gift for the art-loving cat owners in your life, as does commissioning your very own custom-made cat portrait.
Image credits: All images are public domain
Author Bio
This guest post was kindly contributed by Hazel Bennett — a freelance writer and blogger. She has a degree in communications and lives in Northeastern Ohio. Hazel loves writing about numerous topics and showcasing her expertise with words.