Siamese cats originated in Thailand and are one of the oldest breeds in the world. Their distinctive dark "pointed" fur coloring contrasting with their cream-colored body make them one of the most recognizable cat breeds. 
If you plan on getting one of these beautiful felines, you're probably wondering a few things about them. Like, how big do Siamese cats get? We'll cover this and other information, including when they stop growing and other physical characteristics. 
Let's examine this sensational small cat breed in more detail.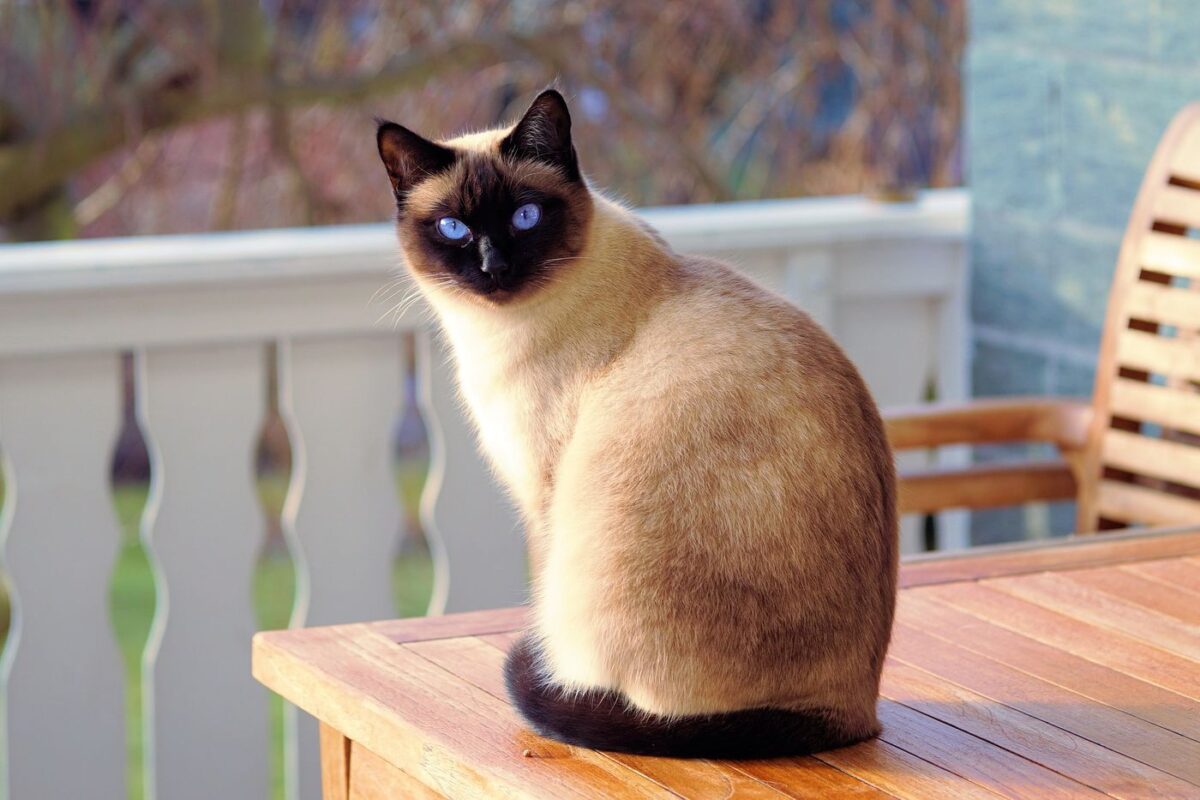 How Big Do Siamese Cats Get? Breed Information 
First, let's cover the stages of a Siamese cat's growth timeline. From birth to cathood, this will give you a clear idea of what to expect as they mature. 
Siamese Cats: 0 to 6 Months 
When a Siamese kitten is born, it weighs between three and five ounces — less than half a pound. It measures about 3 inches long and is so tiny it will be able to fit in the palm of your hand. 
Their growth is quite dramatic over the first few weeks of life. They usually double in size by the second or third week. When they're one month old, they should weigh about one pound. 
This cat breed is completely white or cream-colored at birth. Its trademark coloring will only start to appear after a week or two. By eight weeks, their color points will be much more noticeable. 
Siamese Cats: 6 to 12 Months 
By the time a Siamese kitten is six months old, it will look more like an adult cat than a kitten. This is around the time it comes into sexual maturity. Most vets recommend spaying or neutering your Siamese cat when they are between 5 and 6 months old. 
Even though they have reached their sexual maturity, these cats still have a bit more growing to do. At six months old, a Siamese cat will weigh between 2.8 lbs and 5 lbs. 
Siamese Cats: 12 Months to 2 Years
Generally, Siamese cats stop growing when they're between 10 months to 12 months. Although, in some cases, they may continue until they're 18 months. By the time they're one year old, they should have their full colorization, but they can continue to darken. 
A Siamese kitten officially becomes an adult cat when they reach the ripe old age of two. At full maturity, a male Siamese cat weigh between 10 and 15 pounds, and a female weigh between 6 and 10 pounds. They are usually 11.5 to 15 inches long and about 8 to 12 inches tall. 
Whereas some cats' body size might be deceiving due to them having lots of fur, a Siamese cat has a short and silky coat. This makes it easy to see their true body proportions.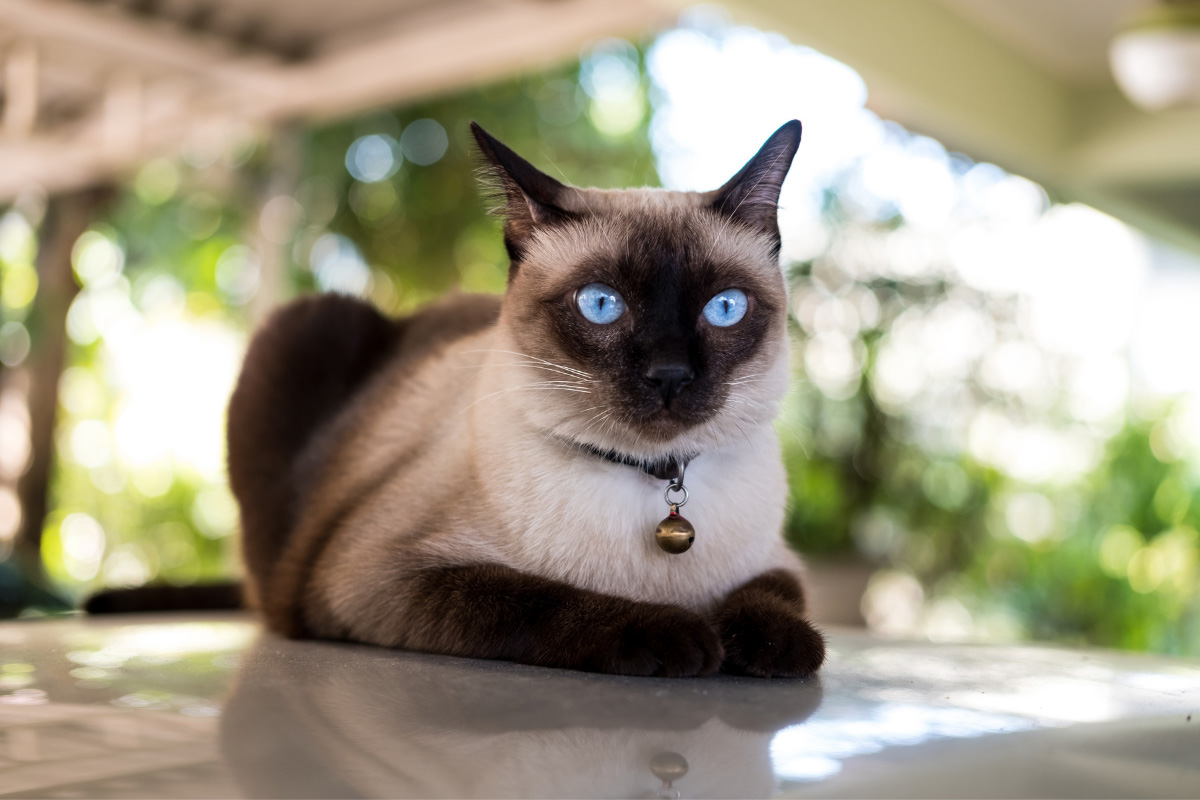 Siamese Cats: 2 to 10 Years Old
The adult stage of a Siamese cat's life is officially from two to ten years old. During their early adult years, you'll notice these cats love to play and interact with people and other animals. They're very talkative from the start, and as they get older, some cats will get even more vocal. 
They'll be done growing by the time they're two, but a Siamese cat can put on weight at any point in their life. Since they're naturally thin and have a lean and slender body, It's easy to see if your cat is putting on too many pounds. 
It's important to feed them healthy cat food and stick to the correct portion sizes. 
Siamese Cats: 10 Years and On 
After ten years, a Siamese cat is considered a senior cat. You will notice that their personality is very mellow and subdued. They will nap more during the day and be less playful and interactive. 
Their hearing and eyesight will begin to deteriorate the older they get, and age-related illnesses can spring up at any time. During this stage of life, it's best to try to keep your cat as comfortable as possible. 
Siamese Cat Personality 
A Siamese cat's personality is best described as friendly, social, and loving. They are very intelligent animals and are even known for being talkative; they enjoy "chatting" with humans. 
They are sometimes described as "dog-like" because they love getting attention from their owners and are even known to follow them around. 
Due to their social nature, they don't like being left alone for long periods. They do well with lots of attention from their family and enjoy other cats' company. 
These friendly felines need plenty of stimulation to keep their mind occupied. It's always a good idea to have some interactive cat toys lying around the house for them.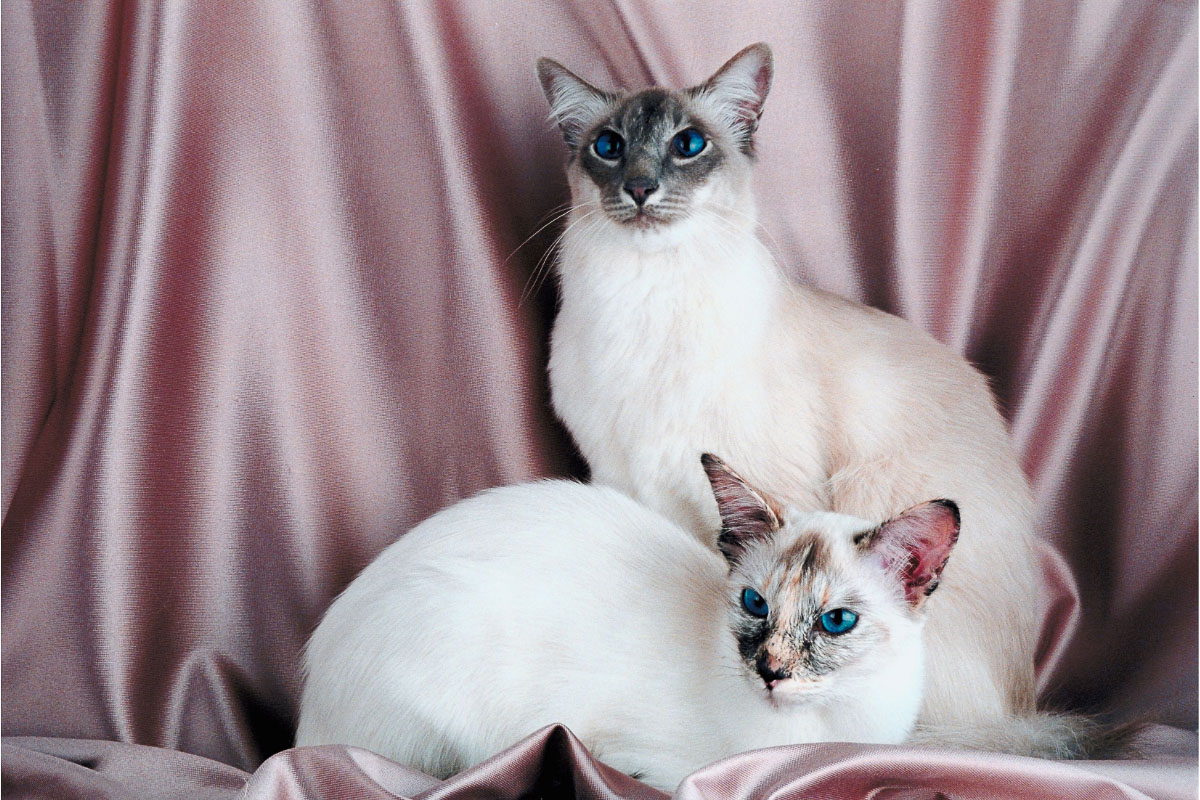 Other Physical Traits of a Siamese Cat 
There are many different types of Siamese cats. Instead of examining each one separately, let's cover some basic physical traits that most types share. 
Partially Albino 
Siamese cats are a natural breed, meaning their fur pattern results from genetic mutation. They have a gene that makes them partially albino, but this gene has a mutation that affects the enzymes that control their coloring. 
Basically, these enzymes don't function properly in warmer temperatures. As a result, the areas of a Siamese cat's body affected by heat -– including the face, tail, legs, and feet — change to a darker pigment. But the areas of a cat's body that aren't as affected by heat — like their back and stomach — stay a lighter shade. 
Albinism in domestic cats is rare, so this trait makes them even more special and unique. 
Fur Coating 
A Siamese cat's fur is ivory, cream, or pale fawn color. The points of their ears, tail, legs, feet, and center of their face are clearly defined by one of four different colors: chocolate point, seal point, blue point, or lilac point. Their fur is fine and soft, with a glossy appearance. 
Blue Eyes
All Siamese cats have blue eyes. This is also because of the recessive albinism gene that this cat breed possesses. There is a variation in the shade of blue their eyes will be: they can range from a deep, rich blue all the way through to a bluish-grey color. Their eyes are also usually almond-shaped, with a small slant.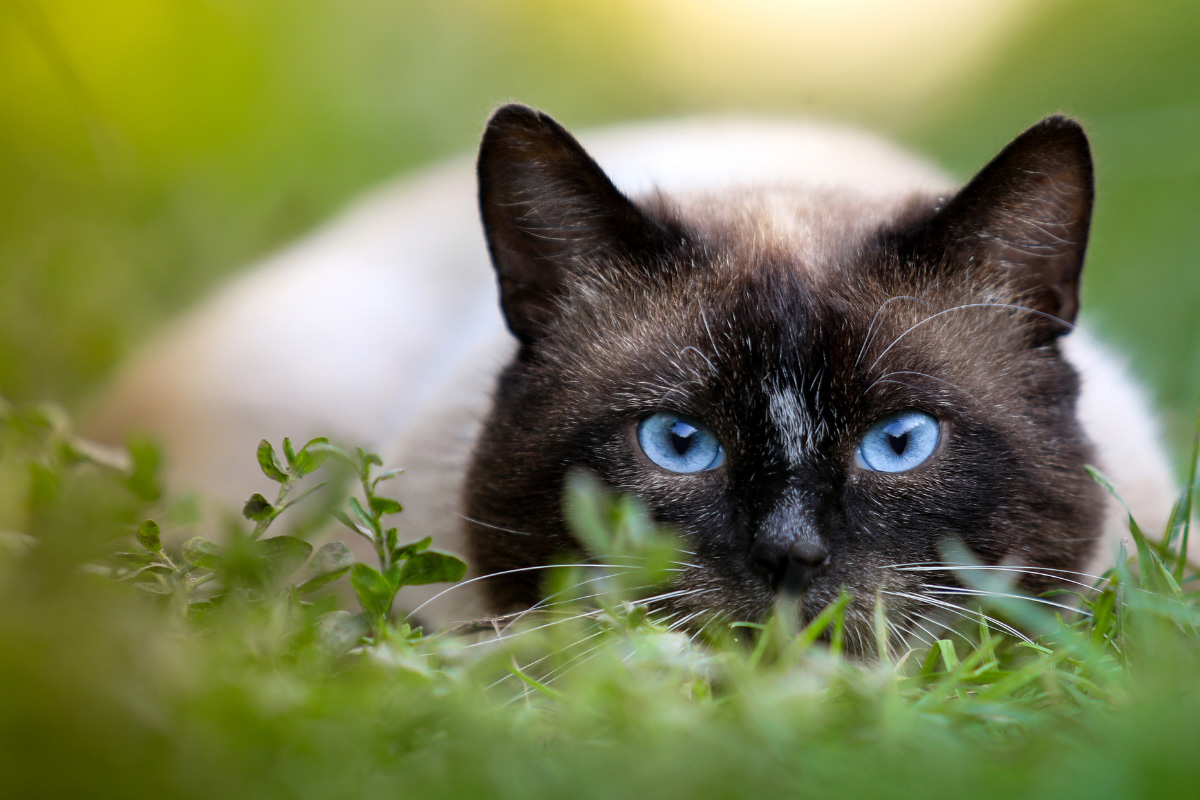 Frequently Asked Questions About Siamese Cats 
Now that you have a better idea of a Siamese cat's growth chart, let's cover some frequently asked questions and answers related to this breed. 
How Long Do Siamese Cats Live For?
Siamese cats are one of the longest-living cat breeds. Their lifespan is between 15 and 20 years, although some can live longer. 
Do Siamese Cats Put On Weight Easily? 
Siamese cats are a breed that is prone to obesity. Different factors can play a role in putting on excess weight, like their activity level. If you allow your cat time to play outside, they're less likely to become overweight since they'll have a chance to run, jump, climb, and play. 
If you're not able to let your cat play outside for whatever reason, make sure to keep things inside the house that allow them to use their body.
Are Siamese Cats Nice or Mean? 
Siamese cats are loving. As long as they're treated with respect, they'll show respect back. They might come off as bossy because they're very vocal, and at times they might demand your attention, but they're not an aggressive breed by nature.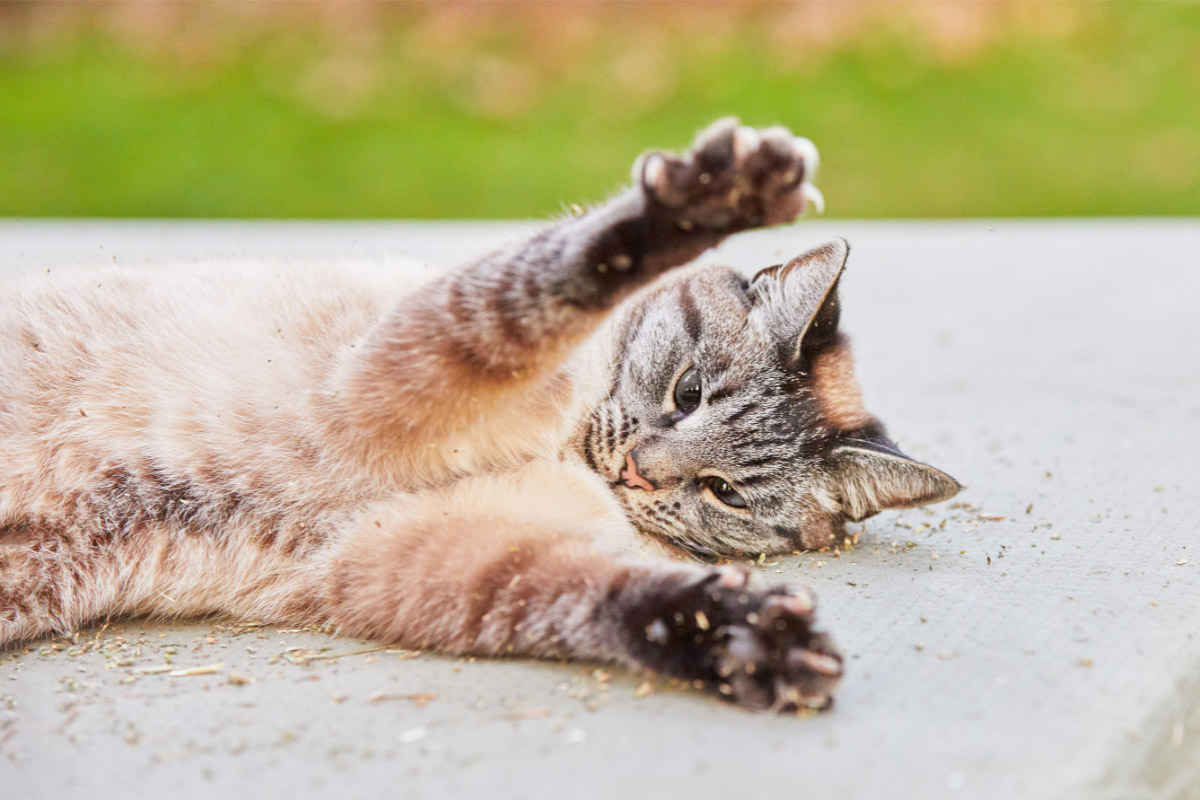 How Big Do Siamese Cats Get? Final Thoughts 
Siamese cats are a beautiful blue-eyed cat breed with a recognizable fur pattern and a friendly personality. They make the perfect house pet and will get along with everyone in the family. If you're looking for a small to a medium-sized cat, they're a great choice for all cat owners. 
Now that you know what to expect as they continue to grow and mature, check out this ultimate guide to Siamese cats to learn even more about this interesting breed.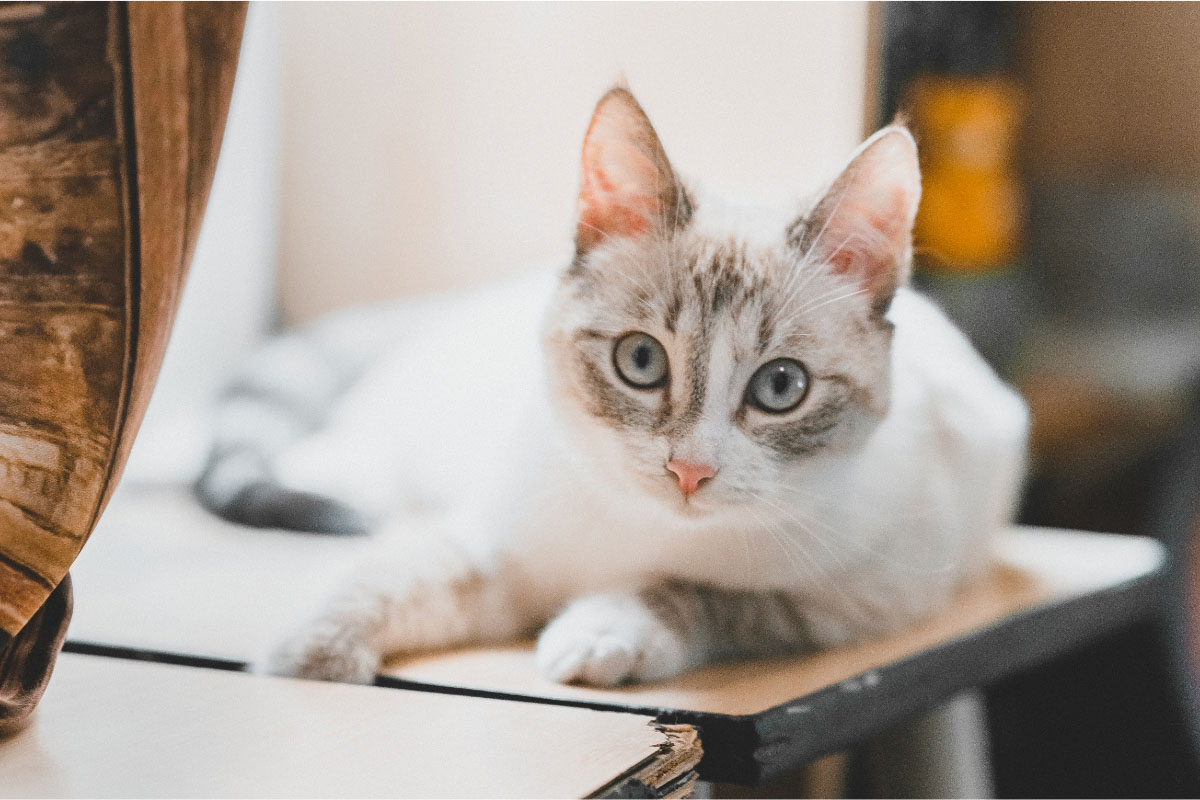 This article on how big do siamese cats get may contain affiliate links. this means if you click through on one of the links and end up making a purchase I may receive a small commission.